Which renovations offer the best returns?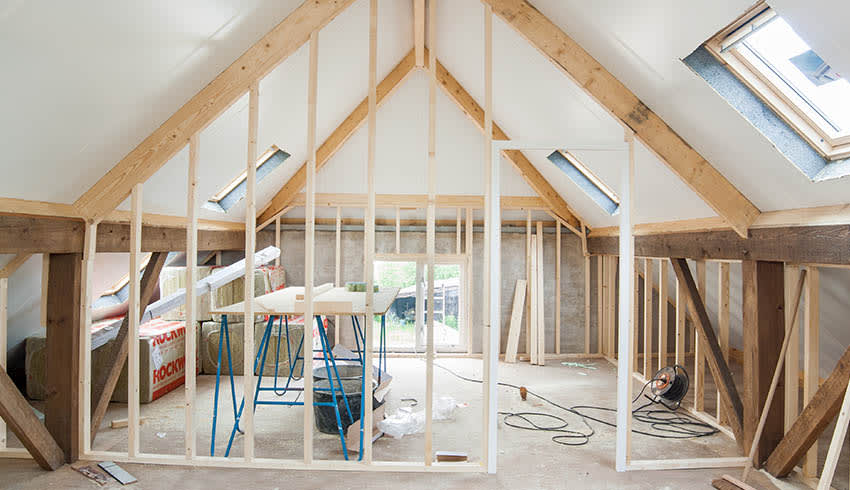 Nu Wealth chief executive Daniel McQuillan said that since the start of the pandemic, a growing number of homeowners have caught the renovation bug – in part thanks to the increased adoption of work-from-home facilities.
"In addition, more and more people have decided to use the disposable income they used to spend on holidays abroad to make their homes more comfortable," he said.
But it's not just homeowners looking to upgrade their personal abode who are putting on their headphones.
"More and more people are also buying homes for renovation purposes and in particular investors looking to increase rental returns by improving older homes during a time of scarcity of rental properties across Australia," said Mr McQuillan.
The latest national home building approval figures show Australians spent just over $3 billion on home renovations in the three months to June.
This growing renovation trend is underscored by the fact that Australians spent an average of around $700 million a month in 2019 on home renovations, compared to currently spending $1 billion a month, according to Mr McQuillan.
And with Australians effectively spending more than $250million each week on home renovations, Mr McQuillan stressed that it is "critical" for investors not to overcapitalize.
He pointed out that while capital investment in some renovations results in corresponding increases in the capital value of the property, others do not equate to a corresponding increase in home value.
He added that new investors are the ones who typically make this costly mistake. "Many new investors make the mistake of becoming emotionally attached to their properties and spending money that will add no additional value to the property," he said.
Based on the sale prices of many properties, Nu Wealth discovered that a salvage percentage could be estimated for each renovation project.
However, Nu Wealth clarified that returns may also vary depending on several factors, including the location of the property, the quality of the renovations, as well as the capital value and the type of property most in demand in the sector.
Mr McQuillan added: "[Not] all home renovations offer high financial returns and real estate investors should do thorough research before embarking on a major renovation.
Before you rush to the hardware store or contact your local craftsmen, Nu Wealth recommends that you choose the projects that offer the best returns using the guide below:
Kitchen renovations (60-80% yield)
The majority of kitchen upgrades typically offer high returns, with renovation projects in the area having an average payback rate of around 60 to 80 percent, according to McQuillan.
"The smaller your investment, the greater the potential for cost recovery," he said.
If a homeowner is looking for higher resale value, they recommend avoiding over-the-budget extras such as high-end, state-of-the-art cooktops, ovens, or countertops.
For an easy and cost-effective project, Mr McQuillan said a fresh coat of paint could do wonders for a kitchen.
"Fresh paint can take years off the perceived age of a kitchen. Pick a light, neutral color," he said.
He added that big changes don't always have to be made to make a good first impression and that salespeople can focus on just highlighting the good points of the kitchen. "Buyers will pay particular attention to cleanliness, layout and storage capacity. Emphasize space by keeping counters clear and closets well managed," he said.
Solar panels (90% to 100% efficiency)
Due to the energy savings they provide, solar panels are quickly becoming one of the most popular home renovations among Australians.
Mr McQuillan said that with solar panels becoming a big selling point for potential buyers, adding one to your property will provide an average recovery rate of 90-100%.
To back up his claim, he cited a major study by the US National Bureau of Research, which found that homeowners who install solar panels and then sell their property recoup 97% of their investment plus energy savings.
Bathroom renovation (yield 60 to 80%)
For Mr. McQuillan, renovating a master bathroom "makes sense" because it offers a return on cost of 60 to 80 percent.
But he pointed out that bathroom renovations don't have to be large to effectively increase your rent or the capital value of the property. "If you're upgrading a bathroom, consider revamping it with two sinks and a (very popular) separate shower and tub," he said.
He also suggested other cost-effective ways to improve a bathroom, including painting, tiling the walls, and/or painting the ceilings. "Use a color palette to make it easier for shoppers to imagine their accessories," he added.
Addition of a chamber (efficiency of 70% to 90%)
While building a new room in your property could offer a solid 70-90% return, McQuillan cautioned against over-developing your suburb.
"For example, adding a third bedroom will be more valuable than a fourth bedroom. However, you might need an office instead of the fourth bedroom," he explained.
Upgrade master bedroom to suite (60-80% yield)
Mr McQuillan advised property owners who want to create a "luxurious" master suite to focus on underused areas to maximize returns and make the sales process easier.
"It's less expensive to modify underutilized areas than to add new ones because the roof, foundations and some walls are in place. But if you eliminate the third bedroom in the process, you may have a harder time selling your home. Try to find space elsewhere. You can even decide to continue," he said.
Patio (65-75% yield)
With outdoor living spaces being a big plus for buyers, McQuillan said providing privacy would make the patio more attractive.
"A small patio that replaces a crumbling concrete slab can have a positive impact on the sale of your home," he added.
Landscaping (75-100% yield)
If you are planning to sell soon, Mr. McQuillan recommended that you undertake a planting project to improve the facade of your house.
But he warned real estate investors against overdoing the landscaping. "It's wise not to overplant, as some buyers see extensive planting as more work than fun.
"The garden should be easy to maintain and still look neat from the side of the road, because that's the first impression buyers have of your home," he says.
Improved security (75% to 100% performance)
With security becoming a top priority for many homebuyers, McQuillan suggested homeowners invest in it.
"Money spent on improving a home's security will prove to be a major attraction for a wide range of buyers," he said.
Pool (50% yield)
Mr. McQuillan acknowledged that pools are usually added by families to the property for lifestyle reasons.
"However, when they sell their home, they will find that buyers are divided on the appeal of a swimming pool, as a large number of people do not want to buy a property with a swimming pool," he said.
RELATED TERMS
Return
A yield refers to the change in price of an asset or investment, usually represented by a price change or a percentage change.