Shanghai's factory, retail and real estate sectors pulverized by lockdown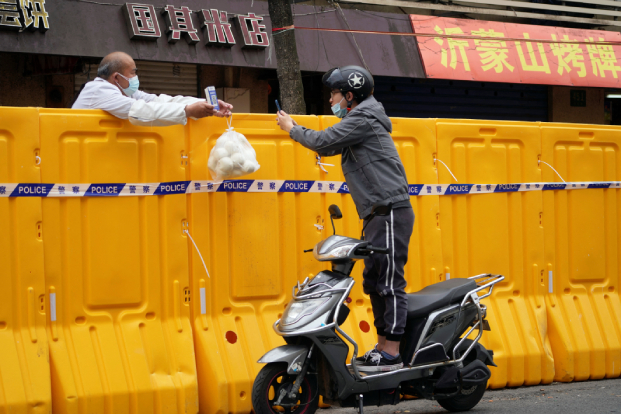 Industrial production in Shanghai fell more than 61% in April when a strict citywide lockdown was imposed by local authorities, the local statistics bureau said.
Shanghai is the country's trading hub, but with factories closed and citizens stuck at home, the drop in production was the biggest drop in more than a decade and much worse than the 7.5% drop in March.
The city's retail sales also fell 48.3% in April, significantly steeper than the 11.1% drop nationally and the city's steepest decline since at least 2011.
This led to an overall decline in retail sales in the Yangtze River Delta, which fell by more than 30%.
Real estate sales by floor area fell 17% in January-April compared to growth of 4.0% in the first three months. In April alone, sales fell 88%, according to calculations based on four months' data.
SEE ALSO: U.S. business confidence in China is deteriorating, AmCham warns
Reopening soon, but fears remain
The city, home to top companies such as Tesla and Semiconductor Manufacturing International Corp, accounts for 30% of China's key auto component manufacturing and 40% of its chipmaking capacity.
The number of Covid cases in Shanghai has fallen and the city of 25 million people plans to normalize life in Junebut analysts say the impact of its lockdown is far-reaching.
Concerns have been raised about China's role in global supply chains, as multinational companies currently based there may reassess their operational risks in the country. There has been a sharp increase in the number of expats wanting to go out from the city.
Even if the lockdown is lifted next month, restrictions on foreign travel by its citizens and the risk of further Omicron surges are causing uncertainty, representatives of the European Chamber of Commerce in China said during a meeting. a round table on Monday.
"Many companies and individuals are seriously considering their presence in China," said Bettina Schoen-Behanzin, vice president of the chamber.
The officials at American Chamber of Commerce recently expressed similar fears.
• Reuters with additional editing by Jim Pollard
ALSO on AF:
Shanghai aims to return to normal in June
U.S. business confidence in China is deteriorating, AmCham warns
Beijing closes more facilities as Shanghai expats look to get out