Shanghai real estate market on the road to recovery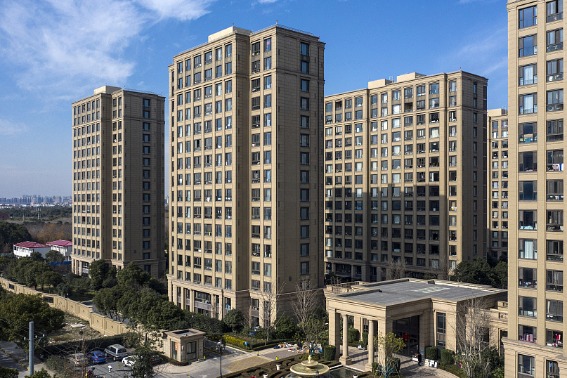 As business and life gradually return to normal in Shanghai, I have also found many signs that the real estate market in the Chinese metropolis is emerging from the shadow of the lockdown and gearing up for a recovery.
After more than two months of literal shutdown, Shanghai is seeing new residential projects being launched at an accelerated pace, and a growing volume of high-end residential properties being traded, indicating the housing market is rebounding.
Xie Chen, head of research at CBRE China, said the residential real estate market started to recover strongly in terms of supply and demand in June.
Property developers are accelerating the release of new home projects and around 9,000 units of new residential apartments became available for sale last month. Meanwhile, real estate transactions by floor space have increased more than sevenfold, Xie said.
A total of 7,516 new residential apartment units were traded in Shanghai in June, up 689% month-on-month but still down 17% from the same period last year , according to statistics from Lianjia Shanghai.
The growth is most striking in terms of value, as residential properties traded for a combined value of 68.5 billion yuan ($10.12 billion), soaring 798% month-on-month. another and 31% year-on-year.
The apartments were sold at an average price of 75,380 yuan per square meter, up 5 percent from the previous month and 43 percent from a year ago.
While sales growth accelerated in June, many high-end deals that were in progress at the end of the first quarter were completed through online shopping systems in the second quarter. As a result, high-end sales rebounded strongly in June, said Sheng Xiuxiu, research director for JLL China's residential sector.
A total of 1,239 high-end units were sold in the last quarter, up 15.9% quarter-on-quarter and 154.4% year-on-year, according to JLL, a global real estate and management services firm. of investments.
As Shanghai returns to normal, JLL expects the housing market to regain confidence and gradually recover in the second half.
"Shanghai has further relaxed its residency policy for new graduates. This effort to attract talent with strong housing demand will support sales in the coming quarters," Sheng said.
Signs of retail recovery are more evident for people living and working in cities.
According to Sheng, daily passenger traffic on the subway in early July returned to 8.6 million passenger trips, about 80 percent of the pre-pandemic level. With 831 kilometers in total length by 2021, the city had the longest metro system among all cities in the world.
Likewise, footfall and turnover are gradually recovering in physical stores. Since June, luxury brands have led the recovery due to strong pent-up demand and delayed purchases.
Additionally, coffee and tea brands also saw an increase in orders after delivery services resumed. Terrace restaurants have seen a faster recovery, Sheng added.
"Commercial activities throughout the city are resuming. As catering services gradually resumed in Shanghai restaurants at the end of June, shopping malls in Shanghai are rapidly regaining popularity," Xie said.
In addition, more than 40 retail brands opened their first stores in Shanghai from early June to early July, and more are on the way in the second half with accelerated demand, Xie said.
Regardless of the impact of the pandemic, 32.8 billion yuan of commercial real estate investment was made in Shanghai in the first half, up 2.5% from the same period last year, and Shanghai is also the only first-tier Chinese city to record positive growth. in terms of commercial real estate investment in the first half, said global real estate services firm Cushman & Wakefield.
The outstanding performance was mainly seen in office investments, which accounted for 64% of total deal value and almost doubled compared to 2021.
Lu Qiang, executive director of capital markets in East China at Cushman & Wakefield, expects Shanghai's commercial property investment to top 72.2 billion yuan in 2022.