NSW's most 'overvalued' and 'undervalued' towns revealed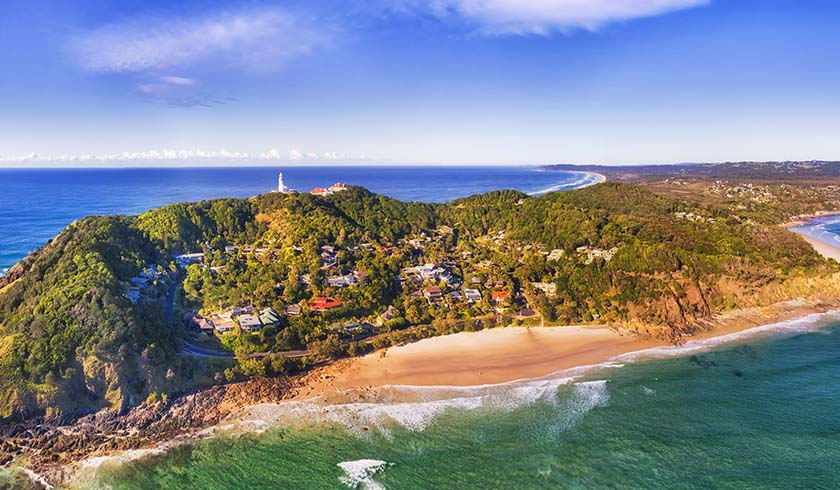 A new report from InvestorKit has revealed that the state's most populous coastal towns – Byron Bay, Coffs Harbour, Wollongong, Shoalhaven and Port Macquarie – are now "overpriced" or out of reach for middle-income people.
Meanwhile, data showed that regional towns such as Wagga Wagga and Lower Hunter are significantly "undervalued," indicating high housing affordability in these areas.
The research, which analyzed Australia's 25 largest regional areas, determined whether a suburb was unaffordable (overvalued) or affordable (undervalued) by looking at home loan servicing ease and pressure analysis of the market.
A "affordable house price" was based on the average local income of a two-income household and the affordability of a loan of 30% of net income, among other factors.
Mortgage interest rates have also factored into home loan affordability. The property search and buyer agency has calculated the maximum house price at which home loan repayments remain affordable under two mortgage rate scenarios of 3.5% and 4.5%.
Arjun Paliwal, founder and head of research at InvestorKit, pointed out that the influx of Sydney residents into coastal markets has increased unaffordability over the past 18 months.
"The great migration during the pandemic has seen Sydneysiders move to coastal and regional towns in search of more attractive lifestyles. With coastal areas having seen price growth of at least 75% over the past decade, this has led to high unaffordability in these local markets," he said.
But the expert noted that people looking for a change of scenery, as well as investors looking for bargains, could still find pockets of affordable areas if they looked inland.
"[It's] good news for those looking for a tree change with the regional areas of Albury-Wodonga, Wagga Wagga and the Lower Hunter proving to be undervalued markets," Mr Paliwal explained.
However, the data showed that some cities that are currently undervalued are at risk of becoming unaffordable if interest rates rise another 1%.
The report also notes that interest rate shocks are likely to be felt more in overvalued markets, with some cities estimated to see unaffordability rise nearly twice its current rate.
Sydney named Australia's most "overrated" city
Sydney turned out to have the most overvalued house prices in both New South Wales and the country, with the median house value standing at $1.1 million.
The median home value in the Port City exceeded the average household income by 26.9%, according to the study.
If interest rates were to climb to 4.5%, the gap between housing affordability and the ratio of household income spent on housing would be tilted sharply against investors and homeowners at 35.3%.
NSW's overvalued coastal towns revealed
richmondRichmond, SA Richmond, VIC Richmond, NSW Richmond, TAS Richmond, NSW Valley – Coastal
Richmond Valley – Coastal – which covers the towns of Ballina, Brunswick Heads, Byron Bay, Bangalow and other surrounding areas – was found to be 41.6% overvalued at a 3.5% interest rate, according to the latest data from November 2021.
If interest rates were to rise to 4.5%, medians in the region would be overvalued by 48.2%.
Mr Paliwal attributes soaring house values ​​in Byron Bay and its surrounding area to its reputation as a popular holiday destination.
"The price and affordability of local real estate is being skewed by investors from outside the region, but also by the local luxury real estate market," he said.
However, given the area's 144% land value gains over the past 10 years, Mr Paliwal warned buyers to be aware of the potential slowdown in the growth cycle.
Wollongong
Wollongong property values ​​have soared 132% over the past 10 years, with a median home price of $1.1 million, according to InvestorKit.
Skyrocketing housing prices have caused it to exceed local affordability by 28.3%. At an interest rate of 4.5%, the numbers should reach 36.5%.
"In the sales market, monthly sales volumes are eating up the number of listings, indicating a supply crisis. We expect higher price growth because of this," Mr Paliwal said.
"While the market is overvalued, analysis of coastal market value remains difficult due to the large revenues that are not local to the market."
Port of Coffs
Over the past decade house prices in Coffs Harbor have risen 100%. Its current median price of $710,000 has exceeded affordability by 11.1%.
This overvaluation would reach 21.3% at an interest rate on mortgages of 4.5%, according to the report's calculations.
Weighing in on the data, Mr Paliwal said: 'As one of the main towns on NSW's popular north coast, the price and affordability of Coffs Harbor accommodation can be influenced by buyers from larger towns and the varying demographics of the coastal market.
"The market pressure in the region is also much higher than a year ago. Even with its valuation relative to local incomes, due to the influence of incomes elsewhere, price growth is expected in 2022."
Haven
After a 119% price increase over 10 years, Shoalhaven's median home price ($730,000) is above the local affordability threshold, InvestorKit said.
For properties in the area to be affordable, InvestorKit said prices would need to fall 13.3% with an interest rate of 3.5% and 23.2% with an interest rate of 4.5 %.
Arjun said Shoalhaven's appeal comes from the area's relative affordability compared to Sydney, as well as its lifestyle advantages.
"Market pressure in Shoalhaven is much higher than a year ago, which could be attributed to urban dwellers moving to coastal towns during the pandemic. We can see listings for sale declining faster than the current pace of monthly sales volumes, which is healthy, indicating a tightening in the sales market," he said.
Kiama Shellport
Kiama-Shellharbour's median home price ($815,000) comes after a 99% price growth over 10 years, which resulted in a 10.5% overvaluation of home values.
If the interest rate increases by 1%, property prices in the region would be overvalued by nearly double to 20.7%.
NSW's 'undervalued' towns risk becoming unaffordable
Newcastle
Property prices in Newcastle have increased by 89% over the past 10 years, with the median property price at $775,000.
At an interest rate of 3.5%, homes in the coastal town are 2.3% less than the average local household can afford.
However, if the interest rate increased by 1%, house prices would become unaffordable and would be overvalued by 9.4%.
Port Macquarie
Port Macquarie's median home price ($639,000) is below the 0.4% affordability threshold, according to InvestorKit research.
In a mortgage rate scenario of 4.5%, Port Macquarie would be overvalued by 11.8%.
The report notes that the price and affordability of homes in the city could be influenced by the same factors as other coastal hotspots: retirees and cash inflows from the capital.
Furthermore, he pointed out that market pressure in the region has increased over the past year and continues to strengthen. The gaps between sales and listings trends indicate further market tightening, which is very strong given the recent price spike.
Given these conditions, Mr Paliwal predicted: "Coastal markets like Port Macquarie and Coffs Harbor could probably end 2022 as NSW's top performers."
Wagga Wagga house prices are 'the most undervalued' in NSW
With a median home price of $415,000, Wagga Wagga home prices are 69.4% below the affordability threshold. At an interest rate of 4.5%, the city would still be undervalued by 50%.
Over the past 10 years property prices in the region have risen by 53%, with the report stressing that there is "further growth potential".
Other Cities Will Remain Undervalued Despite Possible Rise in Mortgage Rates
Lesser Hunter
Lower Hunter is also 54.1% undervalued, with the median home price currently at $481,000.
Under a 4.5% interest rate condition, property prices in the region would still be 36.5% undervalued.
"The market pressure from Lower Hunter sales is higher than last year and at healthy levels," Paliwal said.
The expert noted the tightening of market conditions in Lower Hunter. "Listings continue to decline and sales volumes are growing, albeit at a slower pace than previous quarters. The local market is well balanced with high affordability, healthy yields and strong market pressure," a- he declared.
Albury Wodonga
Albury-Wodonga's median home price ($456,813) is below the affordability threshold of 47.2% and 30.4% if the mortgage interest rate increases by 1%.