Insurers wary of China's faltering property market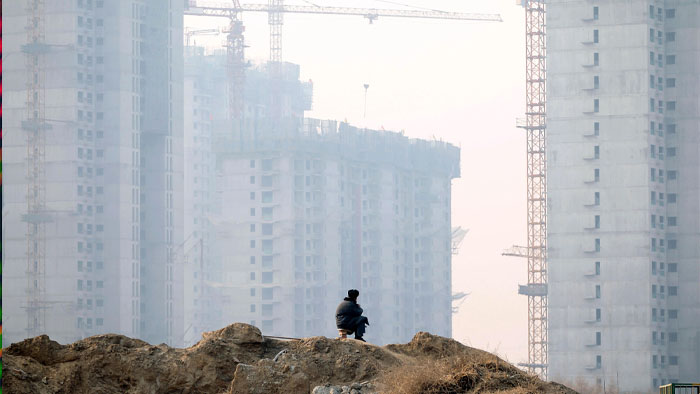 To achieve its goal of developing subsidized rental housing for its large population, China needs to gain support not only from the country's real estate sector, but also from major investors like banks and insurers. Insurers may not help the government achieve its goal
Following the indebted setbacks of the Evergrande group and the destabilization of the real estate market which resulted from it, the Chinese real estate sector appears to have lost its luster for many categories of investors.
The Chinese central government has made the development of subsidized rental housing one of its priorities for the year 2022. Its goal is to develop 2.4 million units of subsidized rental housing across the country during the year. In progress. This should increase the supply of affordable rental housing and to some extent address housing difficulties. The country will also add 100,000 more public rental units and renovate 1.2 million homes in run-down areas.
To carry out this task, China is seeking support from its banking and insurance sectors. To help the banking and insurance industry support this effort, the China Banking and Insurance Regulatory Commission (CBIRC) and the country's Ministry of Housing and Urban-Rural Development issued a series of guiding notices in February 2022. .
The government in search of targeted financial products
These guidance opinions have been issued to strengthen financial support for the construction and operation of social rental housing and oblige banking and insurance institutions to offer targeted financial products according to the characteristics of housing financing needs. social rentals.
The guiding opinions propose to build a wide-ranging, tiered financial services system for government-subsidized rental housing projects on a people-centered and market-driven basis, and with controllable risks and business models. viable.
The real estate sector sees guidance notices as an important measure to promote the establishment of a housing system with multiple types of providers and various support channels that encourages both rental and purchase, in order to alleviate housing hardship for new urban residents and young people.
Regulations to be relaxed
The CBIRC also said in a statement that insurers should provide long-term financial support for affordable housing projects. To make things easier for financial institutions, including insurance companies, affordable rental housing loans would not be included in the management system that caps home loans.
China, in its effort to manage risks to its financial systems, has imposed upper limits on outstanding real estate and mortgage loans for lenders from January 1, 2021.
The CBIRC and the Ministry of Housing and Urban-Rural Development will also jointly promote the implementation of relevant measures, form a synergy to support the development of subsidized rental housing, and promote the virtuous circle and healthy development of the real estate industry.
Local authorities are also required to expeditiously clarify the standards of state-subsidized rental housing projects, strengthen project monitoring and management, and provide support to banking and insurance institutions to carry out the relevant cases well. At the same time, the guiding notices emphasize that relevant parties should strengthen project risk management and firmly guard against risks.
The guiding notices encourage insurers to provide long-term financial support to affordable rental housing projects through direct investment or by investing in debt programs, equity investment plans and equity funds. insurance investment. The regulator also wants insurers to invest in real estate investment trusts and bonds that are used to finance housing projects.
Not an encouraging answer
It seems unlikely that there will be enough supply to bring insurers to the table. Fitch Ratings, in an off-ratings action comment titled "Chinese insurers unlikely to invest in real estate despite regulatory push", published in March 2022, said: "It does not expect that Chinese insurers significantly increase their exposure to real estate-related investments and support the development of government-subsidized rental housing despite a possible improvement in asset-liability duration mismatches.
Fitch says insurers are exercising more caution in their investment decisions under China's Risk-Based Solvency System (C-ROSS) Phase 2, which came into effect on January 1, 2022 , and has stricter capital requirements on high-risk assets, including investment property, alternative investments and long-term equities. These assets represented half of the insurance sector's investment mix at the end of 2021.
The Stage 2 regime subjects insurers' direct and indirect real estate exposures to higher capital charges and adds a concentration risk factor to the minimum capital requirement if the book value of the total investment property of an insurer exceeds 25% of total assets to reflect the volatility of property prices risk.
The C-ROSS scheme also increases the multiple risk factor for investment properties located outside municipalities that are directly under the central government, provincial capitals or cities under state planning.
The sector's direct real estate investments are generally limited, but insurers have exposure to the real estate sector through equities and alternative investments with real estate as the underlying asset.
Developers default a damper
The financial difficulties of Chinese property developers had also become more apparent in the last quarter of 2021, with several developers defaulting on bond or interest payments. The debt crisis has prompted the CBIRC to carry out investigations into the investment activities of insurers, especially those that go beyond the authorized investment scope of insurers.
The regulator is looking at the role of insurers in commercial real estate projects and unlisted property developers. Insurers were also asked to provide details of their real estate investments, whether in the form of bonds, stocks or other vehicles.
In an earlier commentary, Fitch Ratings found that all rated insurers' investment risk associated with Chinese homebuilders was manageable and that their portfolio's average exposure to property developers, excluding investment programs by borrowing, was less than 7% of total equity and 2% of the total. cash and invested assets at the end of the first half of 2021.
Fitch said China life insurers' investment risk associated with homebuilders (excluding leveraged investment programs) should be manageable as insurers have sufficient capital to absorb potential losses. . For all rated life insurers, average portfolio investment exposure related to lower-quality homebuilders and those not rated by Fitch was less than 10% of total equity at the end of the first half 2021.
In the non-life sector, Fitch expects general insurers' investment risk associated with Chinese homebuilders to also be manageable. Fitch believes that rated insurers have a sufficient capital cushion to withstand potential shocks to assets in China's residential construction sector, based on statistics on investment exposure to homebuilders provided by its insurers. noted.
Regulatory probes are a killjoy
Polls like the August 2021 survey by the CBIRC on investment in the real estate market by Ping An Insurance Group have also dampened morale. The CBIRC had asked the insurer to stop selling alternative investment products, which are generally linked to the real estate market. According to a Reuters report, Ping An's performance in recent quarters has been hampered by concerns over its exposure to the country's real estate sector, which hasn't been too healthy lately. This had a significant impact on the insurer. A